Powerful, Natural Ways to Support
You on Your Path of Well-Being in Body,
Mind and Spirit!
Your entire being is meant to vibrate with dynamic health and vitality!
Now that you are seeking natural relief from physical ailments, and desire to strengthen and build your body and spirit for the quality of life you deserve, Total Prevention has what you've been looking for. Our goal is to deliver to you the highest quality of organic and wildcrafted herbs and vitamins available, with programs and even personal sessions available to powerfully support you in your process of change, growth and health.

Prevent Colon Cancer, Constipation, IBS, Stomach Pain, Weight Gain, Gas and Bloating.
We have spent many years researching and creating the finest herbal remedies on the planet. Because of the tremendous need for Americans to rid their bodies of accumulated toxins, chemicals, pesticides, and other excessive waste, we have spent a considerable amount of resources to develop and perfect cleansing programs that are vital for the body.
These symptoms have reached epidemic proportions in our society. Have you tried laxatives, prescription medications, over-the-counter products − or even had colonoscopies and surgeries − all to no avail? It's time for an effective, total-body change.
Reclaim Your Life!
Literally hundreds of clients have been able to relieve these symptoms and reclaim their health! See testimonials. Take a look at these x-rays. The first shows a healthy colon, the way our colons should operate when we care for them and keep them clean. The second shows what many Americans suffer with − compacted feces, pockets of toxins which cause irritation, even major pain and are a breeding ground for parasites and disease.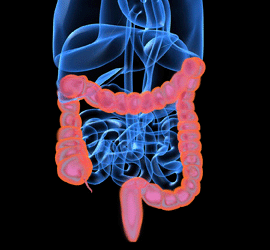 A vibrant, healthy colon: able to process nutrients easily, sustain health and energy.
See actual x-rays of colons under stress due to poor diet and lifestyle.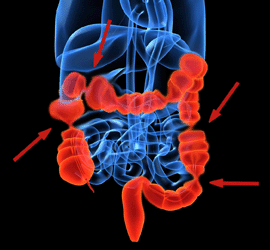 An unhealthy, compacted colon: a breeding ground for disease, parasites, and painful symptoms.
See actual x-rays of colons under stress due to poor diet and lifestyle.
Time to Detox
Keeping your colon clean is the MOST important thing you can do for your entire body!
However, it is essential to properly detox your body. So many commercial remedies available don't care for the essential needs of your body during detox and elimination. Buildup of pollutants, chemicals, compacted feces and parasites can cause considerable pain and additional symptoms if not cared for properly. You need a colon cleansing program designed to cleanse, heal and nurture your colon back to vibrant health.
Cleanse Your Entire Body with Total Prevention's Intestinal Cleanse and Detoxification program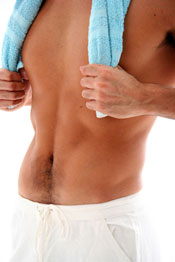 Our Intestinal Cleanse and Detox program is an herbal combination specifically designed to be highly effective in cleansing, nurturing, and healing to the digestive system. In addition, this program assists you in cleansing your blood, lymph and glands of the body. It's important to note that with any cleanse, all of the intestinal waste will not be released through the anus at once. As your body's waste system begins to function, a great deal of waste is naturally picked up by the blood, thus calling your immune system into action. The blood and lymph fluid can become loaded with this toxic material. Find out more. That is why Total Prevention's Intestinal Cleanse and Detoxification program includes two additional formulas that are herbal blood and lymph cleansers. They aid the blood and lymph fluid in quickly cleansing themselves from the overload of toxins, and in rebuilding of these areas.